Cross Academy
Talk

0
296pages on
this wiki
Cross Academy
is attended by two groups of students: the
Day Class
and the
Night Class
. At twilight, when the student of the Day Class return to their dorm, they cross path with the Night Class on their way to school. Yuki Cross and Zero Kiryu are the Guardians of the school, protecting the day Class from the Academy's dark secret: The Night Class is full of
Vampires
.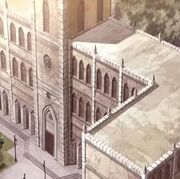 With the assistance of Kaname Kuran, Headmaster Kaien Cross (also known as a legendary Vampire hunter) founded Cross Academy under the influence of Juri Kuran's dream of having humans and vampires co-exist together. Kaien had done this because he once came to a conclusion that he would kill the Kurans, he had stalked Juri. He was, however, instantly defeated by her and a bargain was made that he would create Cross Academy.
That being said, the main importance and point of Cross Academy is that it is a High School for vampires and humans to attend peacefully together. Though some vampires lose themselves to blood-thirst and disobey the rules (sometimes on purpose), but then receive a large amount of punishment from Kaname Kuran. Most adore and fear Kaname, so his commands and the rules are usually obeyed.
The fact that vampires are attending this Academy is a complete secret from the Day Class humans. They are not to know the existence of Vampires, and if they do find out, their memories would be erased provided there is a very good reason not to. The reason why the existence of vampires was a secret is because it's obvious that humans would be to frightened to attend the school if they knew vampires attended it too. The goal of the Academy is for humans and vampires to co-exist together. Yuki and Zero are the guardians in charge of protecting this secret.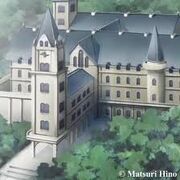 They also make sure the Night Class doesn't cause any trouble for the Day Class students and vice versa, and preform duties as the Headmaster requires of them.