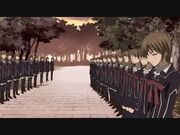 Day Class is the term applied to the Human students who attend Cross Academy, they attend classes during the normal daylight hours. The students live on campus in the Sun Dorm and are not permitted to leave the grounds after dark, though not all follow this rule. A vast majority of the Day Class (particularly the female students) idolize the Night Class, and an even larger proportion are unaware of the Night Class's true identities.
List of Day Class Students
Edit
The black Cross Academy school uniform is worn by students who attend the Day classes in Cross Academy.
The Male Version is a uniform similar that of a formal suit, it mainly consists of: a black vest, a white dress shirt, a red tie, a black pair of pants and a black jacket. The Day Class uniform is also customized with the white lining design, customized rose buttons and cuff links.
The female version is a similar design, with their uniform color being also predominantly black along with the intricate white lining design. The uniform consists of a black jacket, white dress shirt, red ribbon, black mini skirt, black knee high socks and a pair of dark colored boots. It also comes along with the customized rose insignia buttons and cuff links
Ad blocker interference detected!
Wikia is a free-to-use site that makes money from advertising. We have a modified experience for viewers using ad blockers

Wikia is not accessible if you've made further modifications. Remove the custom ad blocker rule(s) and the page will load as expected.